Andrew Tulis Promoted to Assistant Vice President/Bank Secrecy Act Officer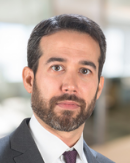 Florence Bank has promoted Andrew Tulis of Northampton to the position of assistant vice president / bank secrecy act officer at the main office in Florence.
He is a 10-year employee of Florence Bank and brings extensive knowledge and skills to his new position. In this role, he will be responsible for ensuring compliance with laws and regulations by developing and adhering to policies and procedures that oversee the bank secrecy act (BSA) program, anti-money laundering (AML) program, and office of foreign asset control (OFAC) compliance.
Andrews studied at New York University, where he obtained a bachelor's degree in journalism. He attended the New England School for Financial Studies at Babson College, graduating with honors in 2016. 
Florence Bank President and Chief Executive Officer Kevin R. Day said, "We are excited to see Andrew's career advance with the bank as he begins the role of assistant vice president / BSA officer. His consistent outstanding performance, reliability, and expert knowledge have made him an essential asset to the bank."