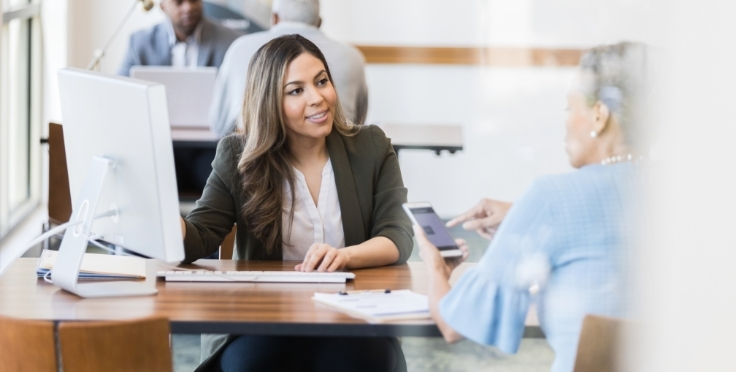 8 Benefits of a Checking Account
Checking accounts offer you the flexibility of paying bills, making purchases, and keeping tabs on your money from anywhere. We know you wouldn't entrust your money to just anyone. That's why
our accounts
are FDIC and DIF insured, which means your money will be safe.
Checking accounts aren't just for the here and now. They set you up for financial stability and document your money usage for the future. The sooner you open one, the sooner you can create a strong foundation for your financial endeavors.
Below are the most important benefits of opening a checking account:
1. Keep track of your funds.
One of the most useful features of a checking account is that you can be more aware of your spending. By reviewing your monthly statements or simply using our app, you can view exactly what goes into your checking account and what goes out. This can help you to set a budget, be on top of payments, and manage your spending. It also provides you with peace of mind that your money is only being used by you.
2. Safely store your money. 
While your cash may seem safer at home, keeping it there puts you in danger of theft, loss, or damage due to fire, flood, or other risks. That's where checking accounts,
mobile banking
and
debit cards
come in handy.
When your money is in a checking account, all deposits are
fully insured
with the Federal Deposit Insurance Fund (FDIC) and the Depositors Insurance Fund (DIF). This means your money will be protected in the unlikely event that something should happen to the bank, or if you're a victim of fraud.¹
3. Get your money sooner.
Your money is yours – you should have it as quickly and securely as possible. Instead of waiting for your paycheck in the mail and cashing it later, you can have your money deposited directly into your account on payday. You'll also save money by avoiding check-cashing fees², which some banks may charge.
4. Access your money anytime, anywhere. 
With a checking account, your money is wherever you are. Mobile banking allows you to pay bills, make purchases, deposit checks, and more from anywhere. With a debit card there's no need to carry cash when you're out shopping or even buying online. If you find yourself in a cash-only situation, you can find a nearby location in our nationwide network of 20,000 ATMs. When you use your debit card, you're protected from fraudulent transactions. You can also send money to family and friends for free, even if they're not a customer at the same bank.
With a checking account, your money is easy to access 24 hours a day, but it's in a safer place than in your home or your pocket. When you use a debit card, you'll also get notifications that allow you to manage transactions right from your phone. Handing over your money for safe-keeping at a bank doesn't mean losing control – it puts you in charge.
5. Avoid unnecessary fees. 
A checking account is a great way to steer clear of unnecessary fees. For example, you can avoid check-cashing fees that other institutions may charge, and fees for missing payments with automatic bill pay. These costs can add up over time but having a checking account allows you to stay ahead of them.
Being more aware of how you spend your money also helps you save it. You would be surprised how much easier it is to budget when no transaction goes unnoticed.
6. Earn interest. 
High-yield checking accounts, like our
Rewards Checking Account
, allow you to earn interest by storing your money in the checking account and actively using your debit card. Your cash doesn't earn you anything by sitting in your home, but it does in a checking account. It's just one way we say thank you for trusting us with your money. 
7. Create a paper trail without paper. 
Imagine trying to prove that you made a payment with cash in the event of a dispute. It wouldn't be easy. Online eStatements provide you with a summary of your monthly transactions, so you'll have a record of every deposit, withdrawal, and purchase. As opposed to paying with cash, you'll always have proof of your payments in a convenient electronic format.
8. Earn Rewards
Some checking accounts offer ways to get some of the money you spend back—it's easy! For example, some checking accounts offer
cash back
, while others earn you
competitive interest
. The features and benefits of each account vary, so check with your bank before you open one.