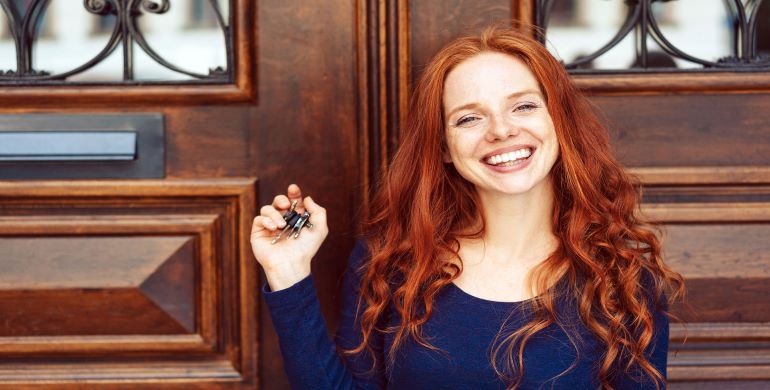 How to Get Pre-Approved and Lock In Your Rate
One of the first things to realize when beginning the home-buying process is the reality that mortgage rates fluctuate. At times, rates can increase and decease on a daily basis. Your rate is important because it affects your monthly mortgage payment, as well as the overall interest you pay throughout the life of your loan. Even a small rate change can make a big impact!
That's why an important first step in the mortgage process is to get pre-approved for your loan so you can lock in your mortgage rate and move forward with your purchase. Pre-approvals are vital to the home-buying process because having one will:
Tell you what price range you can afford.
Allow you to stay competitive with other potential buyers.
Ensure that sellers take you seriously.
Allow the mortgage process to go smoother and faster.


How is a pre-approval different from a pre-qualification?
When borrowers first begin their search for a home, most mortgage lenders offer a pre-qualification. A pre-qualification allows your credit to be pulled, so loan qualification can be discussed without verifying or submitting information to an underwriter.
A pre-approval is different because it allows you to apply for a loan without a specific property in mind and be approved for a loan by verifying your current income, assets and credit. At Florence Bank, we'll determine your maximum loan amount using a 5% minimum down payment on a 30-year fixed or 5/1 adjustable loan.
How much does a pre-approval cost and will you pull my credit?
We provide a pre-approval at no cost to the borrower. A three-bureau credit report is required to apply for either a pre-qualification or a pre-approval.
When should I start thinking about applying for a pre-approval?
Our specialists recommend that borrowers apply for a pre-approval when they decide they are going to start shopping for a home. Those who already have an accepted offer or purchase agreement on a specific property are not eligible for our pre-approval. Most home sellers want a copy of the pre-approval or pre-qualification submitted with an offer. If you want your offer to stand out among others, it would work to your advantage to submit a pre-approval instead of a pre-qualification, solidifying that your offer is strong.
Why is a rate lock important?
Rates have consistently been on the rise, so one of the biggest benefits of using a rate lock is having peace of mind. Locking in a mortgage rate can provide comfort and take some of the mystery out of the home-buying process. If you know you can afford the mortgage payment at the current rate, it might be worth while to lock it in.
How else can Florence Bank help?
We're excited to offer our new pre-approval product that's beneficial to borrowers who are currently shopping or thinking of shopping for a home. Our pre-approval product will automatically lock in your interest rate for 120 calendar days at no cost at the time of your pre-approval application.* This will allow you time to get approved, shop for a home and close on your loan. If the interest rate is lower on the day that a full application with a specific property is submitted, Florence Bank will honor that lower rate.
Getting pre-approved is simple. First, you'll want to stop by your local Florence Bank branch to speak to one of our Mortgage Originators. At Florence Bank, every Branch Manager is also a qualified Originator, so there's always a Mortgage Specialist on hand and ready to help. Originators will provide the application to apply for a pre-approval. They will also provide a complete overview of the process including terms, rate lock and time frames, and what is required of the borrower. In order to be pre-approved, you'll need to have documentation to support income, assets or liabilities on hand. Some examples of supporting documents are:
Paystubs
Tax returns
Bank statements
So, whether you are ready to buy a home now or in the near future, let us help you finance the home of your dreams at a cost that fits within your budget. We're always here to help.
Stop in to any of our 12 branches or call our Customer Service Center at 413-586-1300 to speak to a Mortgage Specialist today.
*Subject to credit approval, pre-approval with 120 calendar day rate lock on a qualifying primary, single family, owner-occupied residence. Subject property must be located within Hampden, Hampshire or Franklin County of Massachusetts. To guarantee 120 calendar day rate lock, a qualifying property must be identified and mortgage application submitted by the 75th calendar day from the date of the rate lock agreement. Only available on certain mortgage products. Contact for more details.