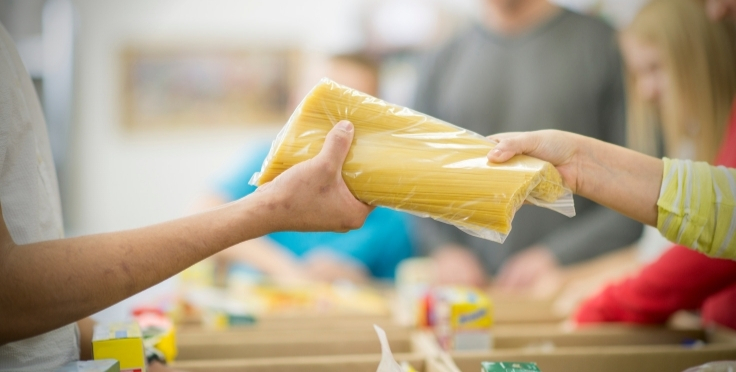 Supporting Food Insecurity In The Valley
Since the start of the new year, we have continued our efforts to support food insecurity within the region. In 2021, donations totaling $40,000 have increased our overall giving in response to the COVID-19 pandemic to $140,000.
As restrictions are starting to lift, our President and CEO Kevin R. Day reiterates our commitment to the cause, stating a return to pre-pandemic economics in the region is likely not imminent.
"People have been impacted significantly. Their jobs haven't returned. They're not making ends meet, and they need food," Day said. "We're here to assist in providing that support for the needs of the Valley."
Throughout the entire pandemic, we have granted donations to numerous organizations across the area, which include:
Nearly $100,000 in 2020 to the:

Amherst Survival Center
Community Food Distribution Project
Easthampton Community Center
Grow Food Northampton
Northampton Survival Center
Lorraine's Soup Kitchen & Pantry in Chicopee

$5,000 to the Chesterfield Community Cupboard, our second donation to that organization since the pandemic began
$20,000 to the Food Bank of Western Massachusetts to support its Brown Bag: Food for Elders Program
$10,000 to Grow Food Northampton, also a second gift, to support the Community Food Distribution Project created last year for emergency food distribution
$5,000 gift for Manna Community Kitchen
The consideration of gifts to support food insecurity is an ongoing item on our Board of Director's meeting agenda.
John Ebbets, chair of our 11-member board, and a member for nearly a decade said the bank prioritizes supporting access to food as a basic human need.
"There is no hesitation whatsoever," said Ebbets. "Florence Bank has consistently been a major player in supporting the community."
As the former executive director of United Way of Hampshire County from 2015 to 2019, Ebbets understands the community need, and he feels grateful to be able to sit on the board to indirectly provide assistance. "It feels good," he said.
Ebbets reiterated that the board will continue to look ahead. "Not everybody will emerge from the pandemic at the same time. The projection is that there could continue to be a significant need; food insecurity does not go away. It is a continuing cycle and an ongoing challenge."