Person To Person Payments
An easy & secure way to pay friends or family.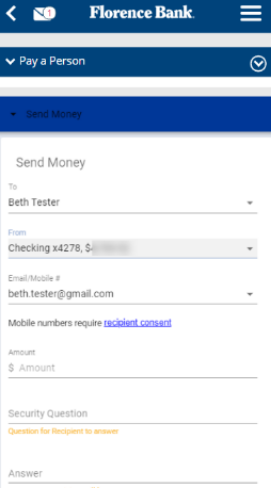 It's safe to say we're all looking for easy ways to help simplify our lives. At Florence Bank, we're always working to develop innovative solutions to ultimately streamline our customers' lives in effective, tangible ways.
So, when numerous variations of money transfer apps started to pop up, like Zelle, Venmo and PayPal, we wanted to ensure we were providing our customers with the most secure, seamless and safe payment system possible.
Below is a summary of what Person to Person (P2P) payments are and why you should be using them:
What is P2P?
Person to person payments (P2P for short) offers a convenient way to send money directly to a person's bank account via the web, mobile or tablet device without having to exchange checks, cash or sensitive account information.
Who can you pay?
P2P enables bank customers to electronically "Send Cash" from their bank account to Florence Bank customers, as well as those who bank with another financial institution, in a simple, secure, and timely manner.
How do you pay?
By using the P2P service you can easily and electronically send money to a recipient at any time. The process delivers the money right from your eligible Florence Bank account to the recipient as soon as the next day.
Why use P2P?
Because it's quick and easy! You only need to know the person's email address or mobile phone number to send them money. Once you send the money, the recipient is notified.
Here are some everyday examples of when P2P can simplify the exchange of money:
Paying a babysitter
Contributing to gas money for a car pool
Splitting the check at a restaurant
Splitting Rent/Utilities/Groceries
Contributing to a group gift
Splitting the cost of a rental property for a group vacation
Paying back money owed

And don't forget…
P2P is a FREE service.
You can quickly send money to any person in the U.S.
You can pay anyone, even if they are not a Florence Bank customer.
It's Safe! You can secure your payment with a secret question that prompts an answer only the recipient would know.
Try it out today by logging into your bank account(s) via the web, mobile app or tablet device and click on "Pay a Person" to get started.