Jim Hickey Named Vice President/Director of Marketing Operations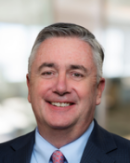 Florence Bank has hired a South Deerfield resident with 25 years of strategic marketing experience with a focus in the banking sector to serve as vice president / director of marketing operations.
Jim stepped into the new role in mid-November after keeping his eye on Florence Bank for many years because he respects its creative marketing strategy, customer-focused approach to banking, and community engagement.
Prior to joining the Bank, he was the vice president of account service at Communicators Group, a marketing communications firm in Keene, New Hampshire. He has also served as vice president and director of marketing for Westbank, a financial institution formerly based in West Springfield. 
Jim holds a bachelor's degree in English from the University of Massachusetts, Amherst and has experience in account management, creative development, media plan execution, and media buying.
Kevin R. Day, president and chief executive officer of Florence Bank, said, "Jim is a creative, analytical thinker with a collaborative approach and a proven track record of managing projects from conception to implementation. We are excited to have him on the team."