Jenna Rahilly Appointed Vice President/Human Resources Operations Director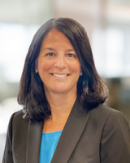 Florence Bank has appointed Jenna Rahilly of South Hadley to serve as vice president / human resources operations director. Rahilly joins the bank as a 23-year veteran in the banking industry with 28 years of professional human resources experience.
Jenna most recently served as vice president of human resources for a local credit union. Her duties included the overall management of the credit union's human resources function, which encompassed the development and implementation of policies related to employee relations, organizational development, recruitment, compensation and benefits, training, and human resources compliance. 
"Being deeply rooted within the community in which Florence Bank serves, I have always had an appreciation of the organization and its people," she said. "I have always had a deep level of admiration for Florence Bank's commitment to the community, and I am excited to now be a part of it."
Jenna studied at Marist College in Poughkeepsie, New York, where she received her bachelor's degree in English. 
Florence Bank President and Chief Executive Officer Kevin R. Day said, "We are thrilled to have Jenna join our Florence Bank family. Jenna's vast knowledge of the communities we serve, coupled with her professional skills and expertise will be invaluable to the bank. I know we will see excellent contributions from her in the years to come."