Community Food Distribution Project
The Community Food Distribution Project (CFDP) is a collaboration between Northampton Survival Center and Grow Food Northampton. The project was quickly established amidst COVID-19 in order to provide fresh, local produce, dairy and meats to people who need it most during these unprecedented times. In April, the Bank donated $50,000 in support of the project, providing ingredients for healthy meals to nearly 125,000 residents in need.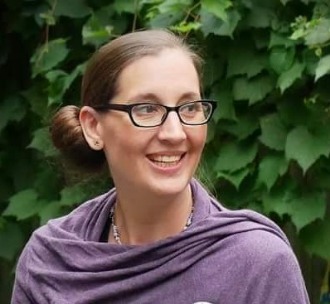 For Jamie Guerin, who is a full-time, stay-at-home parent of three children, the Community Food Distribution Project has been a source of reprieve for her family. "I find that it's a life saver in so many ways because I can have fresh produce. Apples, bananas, onions, garlic – healthy food, every week! Not only is the program nourishing me and my family physically, but it's helping me get through this mentally and spiritually as well," Jamie said. 
Jamie has not had an easy road – she is the sole caretaker of three young children. The four of them all live under the same roof at the Lumberyard apartments in Northampton. A few of the children have special needs that Jamie gracefully takes on despite being disabled herself. Because of her disabilities, it's increasingly difficult to maintain a steady, full-time job. She's resorted to taking on part-time jobs only when she's able. 
With a compromised immune system, it's essential for Jamie to eat foods that are as pure as possible. And with her car in the shop, due to someone stealing an essential part from her vehicle, it's been nearly impossible for her to get the items she needs. "It's such a blessing that we're getting real, healthy, local food from local farms through the program. It's so much better for our bodies and our spirits. Deliveries have been extremely helpful. It's what I look forward to and what my kids look forward to each week. It's very uplifting," Jamie said. 
Jamie added, "I can say with programs like this, when you're donating to your community, you're helping your neighbors and people who live right here in Northampton. And when that happens, you feel like your neighbors truly care about you. No one is judging you or thinking you're less-than. It echoes that sense of community which is so important right now while we're all isolating." 
Jamie also acknowledged how important it is to talk about the things you're struggling with – even though it may be difficult. "There are so many people with similar experiences to mine who don't get a chance to talk about their problems. Just knowing there are more people out there in our community who are supportive and going through the same thing - I find that really comforting." 
Above all else, Jamie reiterated the sense of community that the Community Food Distribution Project has inspired, "when volunteers drop off the food, you see your neighbors, you get to talk to them and the volunteers are always wonderful and truly want to get to know you."

Volunteers
One of those volunteers is Northampton native, Myra Lam. Myra, an elementary school teacher, knew she wanted to spend her extra time volunteering when her school initially closed in mid-March due to the pandemic. "It was clear to me that there would quickly be an exacerbation of inequities. Volunteering for the Community Food Distribution Project seemed like the most valuable use of my time because food security is even more fundamental than reading, writing and arithmetic - people need to be fed in order to function," Myra said.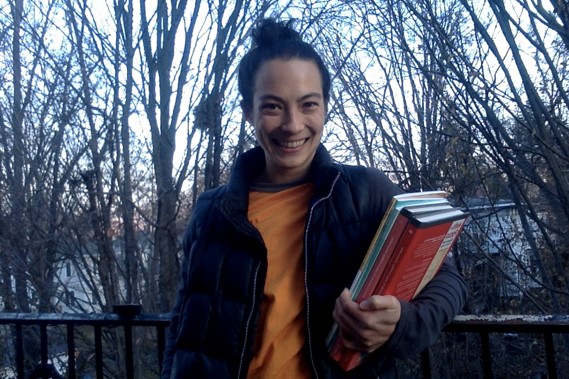 At the beginning of the pandemic, the Survival Center experienced a set-back and needed to close their doors to protect the health and safety of their clients and staff. "When the operations reopened at the much larger, Jackson Street School, the physical space was so much more conducive to social distancing and the traffic patterns were more conducive for food pickup," Myra said.
 
Myra's volunteer responsibilities include pre-bagging food inside of the school's cafeteria and getting orders ready to hand off to clients. "My role is to work as efficiently as possible and my other role is to treat clients with dignity and respect. The Northampton Survival Center is always respectful to clients and never patronizing and it's important for me to continue that," Myra said.
"The Survival Center should be commended for being agile especially because they had to change their physical location in order to work in an efficient manner while keeping everyone safe," Myra added. With fewer staff and fewer volunteers, it's crucial for those working to have the space they need in order to get food into people's hands. Especially when fresh, local food is in high demand.
"Prior to the pandemic, the Survival Center typically registered 37 families in a month – now, within the last month, they registered 281," Myra said. "Community support is crucial – without funding, the staff doesn't get paid and there's no food to go around." 

Funding Partners
Local Northampton residents Martin Wohl and his wife Marisa Labozzetta know a thing or two about community support. Martin volunteers as the Endowment Vice President of the Northampton Education Foundation.

 
"I have been involved in local sustainable agriculture for years through Abundance Farm, CISA and Grow Food Northampton. The Education Foundation also helps fund Grow Food Northampton educational projects," Martin said.
In a recent conversation with CISA, it occurred to Martin that if they could develop a funding plan to purchase food from farmers, it would eliminate some of the debt farmers would incur due to the pandemic. "I thought if farmers could keep selling their products despite the fact that their regular markets weren't around to purchase food, it would be enough to keep them healthy and financially sound," Martin said. He added, "That's when I connected with Grow Food Northampton and said, 'let's make the farmers whole and have the food available to those who are food insecure.'"
It didn't take long for others to join in on the concept. Martin pitched the idea to Alisa Klein at Grow Food on a Friday and over the weekend, he mentioned it to a few local friends. By Monday, Mary Bates and John Pucci, Sallie Deans Lake and Kevin Lake, Chia Collins and Michael Cohen, Dale Melcher and Bill Newman, and Janet and Bob Bissell signed on to the initiative, (aka Local Roots Care) and together the six couples contributed approximately $40,000; turning the idea into a reality.
With those funds raised, Grow Food Northampton has been able to purchase food from local farmers to distribute to residents in need. Martin said, "We really want to buy everything we can. I tell the folks at Grow Food to spend the money – just keep buying from local farmers and then they'll be more food to distribute. That's been rewarding." Martin then added, "I'm continually impressed with all the different ways the community has come together. People matter to each other. That's a beautiful thing."

Local Farmers
One of the farmers who has benefitted from Martin's efforts is Anna Meyer of Conway's Hart Farm. Anna, a Conway native, has lived on the farm for six years and owns and runs the day to day operations. The farm mainly grows vegetables along with some small fruits and eggs from laying chickens.
 
"I think in these unpredictable times, people started realizing the benefit of having a local food system that is reliable," Anna said. She added, "One of the hardest parts about the pandemic is there are so many unknowns. The market for our products is now very different. Without having a regular outlet for our food, it's been a blessing to sell to Grow Food Northampton and the Northampton Survival Center to distribute as part of the Community Food Distribution Project."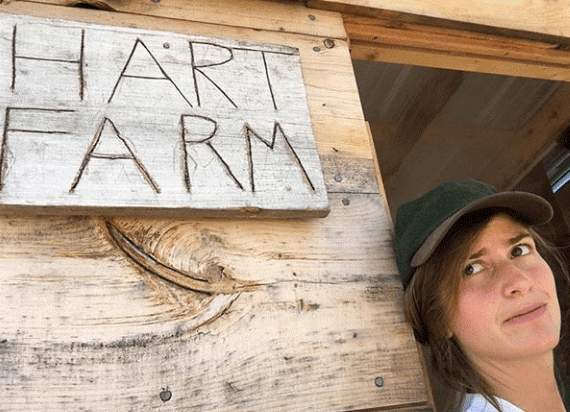 Anna confirmed she's been working to collect produce for close to 400 households to distribute through the CFDP. "We started selling and delivering to the Survival Center in mid-April and we'll continue as our food is available for as long as there is a need," Anna said. 
She added, "We've always tried to make our food as accessible as we can—through delivery service or accepting Supplemental Nutrition Assistance Program (SNAP) benefits using an electronic benefits transfer (EBT) card at the farmer's market. Many of the same people who are receiving bags of food through the CFDP would be going to our farmer's market with their EBT cards. We really try to include as many people as possible."
Ultimately, Anna, like Jamie, Myra and Martin is appreciative of how unifying this unprecedented time has been. She said, "everyone wants everyone to be safe. It's important to remember that there are humans behind the businesses."
 
Anna concluded, "I think that everyone, including bigger businesses, like Florence Bank, can help just as much as people making masks for their neighbors - that is a sign of strength in the community."