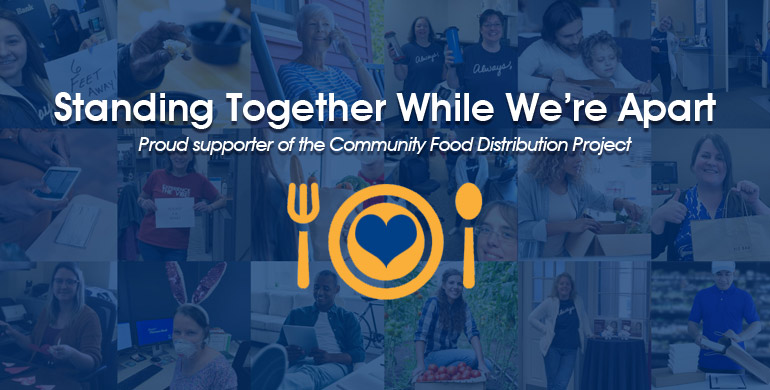 Standing Together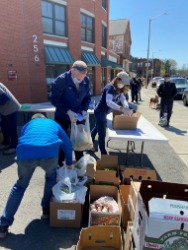 Florence Bank cares about its community and in times like these there's nothing more important than helping our neighbors.
The pandemic has worsened the food insecurity situation for those already reliant on free food distribution and has caused many who never-before needed assistance to reach out for help. That's why Florence Bank is providing monetary support to a variety of organizations dedicated to feeding the hungry throughout the Valley.
"Florence Bank was founded on the idea of neighbors helping neighbors. What better way to display that principle than to contribute to the organizations that are meeting the needs of our most vulnerable neighbors."


-Kevin Day, President & CEO, Florence Bank
Grow Food Northampton & Northampton Survival Center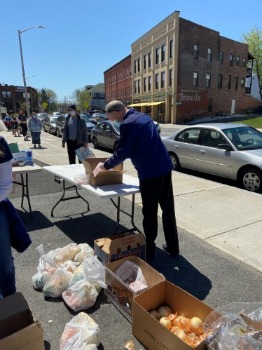 Created jointly by the Northampton Survival Center and Grow Food Northampton, the Community Food Distribution Project (CFDP) is a collaborative that provides everything from locally grown produce to fresh meats and dairy to residents in need. As the largest contributor, to the project, Florence Bank is helping to provide ingredients for 125,000 meals for food insecure residents.
As the primary food distribution partners, Grow Food Northampton and Northampton Survival Center will share our gift equally to provide locally grown, organic produce, non-perishable foods, fresh meats and dairy products to our community during this time of great need.
The collaborative makes food available through on-site distributions three days a week at Northampton's Jackson Street School and through delivery and pick-up two days a week at 11 local sites. Food is available at all locations to area residents, even if they did not need help accessing food in the past.
100 Northampton Families Fed Per Day

Groceries to make 500 meals per week
80+ Volunteers

Nutritious Ingredients Sourced from Farms in the Valley

Chesterfield's Community Food Cupboard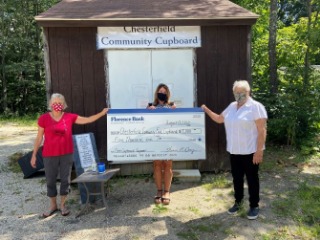 The Chesterfield Council on Aging in partnership with the Chesterfield Select board have taken it upon themselves to create an emergency
Community Food Cupboard
for families in need so that they may have access to healthy foods during the pandemic.
With many Hilltown families finding their incomes reduced or feeling unsafe due to the challenge of secondary health issues, the need to travel to larger stores several miles away has become a difficult option, especially for those with transportation issues.
Chesterfield's small food Cupboard has become a valuable resource for locals as they appreciate being able to get food in their own community rather than having to travel to a Food Bank in a neighboring town.
Florence Bank supported Chesterfield's Community Food Cupboard with a substantial monetary gift to help keep the Cupboard sustainable so they can continue to provide canned and dry goods and integrate:
Fresh Vegetables

Dairy

Eggs
"The creation of the Cupboard has been both a family affair and a community affair. The giving and the receiving of food, books and puzzles has really helped people struggling with keeping food on the table, books to read and games to play while we all try to get through this long journey to the new normal."
 
-Janice Gibeau, Director of Chesterfield's Council on Aging
Easthampton Community Center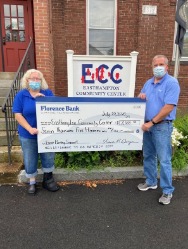 The Community Center Food Pantry in Easthampton is a valuable resource that serves 22 towns in the Valley. The Pantry currently provides food each month to:
6,000 food insecure individuals in need

More than 600 children through their Kid's Summer Pantry Program
Florence Bank is committed to ensuring that none of our neighbors go hungry during these challenging times. That's why we supported the
Easthampton Community Center's Food Pantry
with a large monetary donation.
"Since the on-set of the COVID-19 pandemic, the Easthampton Community Center has seen a huge influx in the number of individuals in need. Donations like this from Florence Bank will help keep our mission sustainable and strong during this challenging time."
 
–Robin Bialecki, Executive Director, Easthampton Community Center
Open Pantry Community Services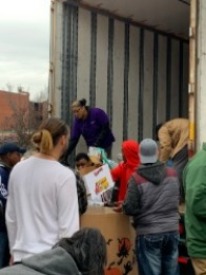 Springfield's
Open Pantry Community Services
 has provided and served the following over the past year through their Emergency Food Pantry:
Over 1 million pounds of non-perishable food
38,000 local people served 
Throughout the COVID-19 pandemic, they have continued to provide life-sustaining services to Springfield residents who are hungry, homeless and disadvantaged.
Their services are expected to increase as our communities continue to struggle with the pandemic, which is why Florence Bank recently supported the organization with a monetary gift so they can better serve people with food insecurity and helplessness during this difficult time.
"Vulnerable communities throughout Western, MA are facing unimaginable realities during this pandemic. Open Pantry's Emergency Food Pantry stands committed to providing food and other assistance to those suffering during these challenging times."
 
-Annie Rennix, Director of Programs, Open Pantry
Easthampton Congregational Church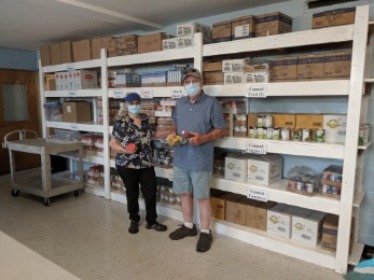 For over 100 years the
Easthampton Congregational Church
 has existed as a dominant structure in the center of Easthampton. The church continues to thrive with an active community presence and distributes food on a monthly basis to Easthampton residents who are food insecure through their Food Cupboard program. The Cupboard includes shelf-stable products such as:
Canned Goods

Pasta

Frozen Meals

Fresh Produce

Cheese

Milk

Eggs
Florence Bank recently supported the Food Cupboard so they can continue to provide supplemental food to Easthampton residents in need. Our donation is helping no child or adult go without basic nutrition, which is paramount especially during the pandemic.
 "For over 100 years, the Easthampton Congregational Church has stood proudly as the dominant structure in Easthampton. Our church members are dedicated to serving the community and strive to meet the needs of our most vulnerable community members. Through our Food Cupboard program, we're able to distribute an abundance of food once a month. Thanks to the support of Florence Bank, we can begin to provide supplemental food so no child or adult in our town goes without basic nutrition."
 
-Raymah Hutchinson, Food Cupboard Volunteer, Easthampton Congregational Church
 
Boys & Girls Club of Greater Holyoke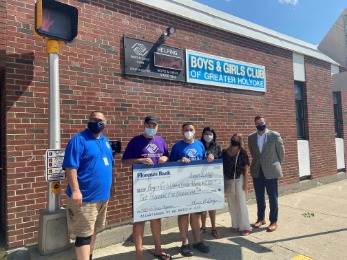 For 128 years the
Boys & Girls Club of Greater Holyoke (HBGC)
 has been a consistent source of hope in the lives of children and families in the communities we serve. As part of their COVID-19 Emergency Response Program, Holyoke Boys & Girls Club is making mission-critical decisions for the health and well-being of the children of Holyoke. That's why Florence Bank was proud to support their "Grab and Go" Dinner Program.
The program operates Monday through Friday at multiple locations throughout Holyoke. From March 30 to July 1, the Club has provided and served:
+50,000 Dinners

+1,300 dinners to youth

750 unique youth rely on food per day
Meals to 13 homeless shelter buildings and over 500 unique youth serviced per day in these locations
At-risk targeted youth dinner deliveries to 160 unique youth per day (these youth have elderly or disabled parents/guardians, special needs, or at-risk of engaging in high risk behaviors.
"In these unprecedented times, it is crucial to continue to support the health and well-being of our youth. The contribution from Florence Bank ensures our doors will remain open to provide essential services to the kids who need us most right now."
 
-Eileen Cavanaugh, President/CEO, Boys & Girls Club of Greater Holyoke
Lorraine's Soup Kitchen & Pantry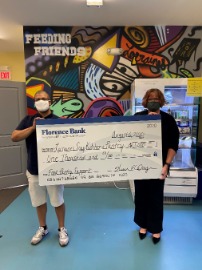 For over 30 years, 
Lorraine's Soup Kitchen
 has served the Chicopee community through their pantry and soup kitchen. Their mission is to be a resource of food security to the Greater Chicopee community by providing access with respect and dignity. In addition to meal and food pantry services, Lorraine's offers Christmas meals, Pop-Up Pantries, free monthly health clinics and regular social services. The pantry also provides emergency take-home food supplies to qualified Chicopee residents. Their intake process is quick & confidential and they have free pantry items available for curbside delivery or scheduled drop-off. With food insecurity on the rise due to the COVID-19 pandemic, Lorraine's meal services are more vital than ever. That's why Florence Bank was proud to support their organization with a monetary donation to help them increase their soup kitchen and pantry support to the Chicopee community.
 
Lorraine's Food Pantry is open Monday through Friday from 10 am – 2 pm and their Soup Kitchen is open Monday through Friday from 4 pm – 6 pm.
"Thanks to Florence Bank for assisting the Chicopee community and allowing Lorraine's to continue our mission of giving free groceries and hot meals to families in need. It's important for community members to know that even if you feel the need to use our services just ONE TIME we encourage all visits. In these unprecedented times, it's imperative to continue to support community members who are experiencing food insecurity."
 
-Ruben Reyes, Executive Director, Lorraine's Soup Kitchen & Pantry 
Amherst Survival Center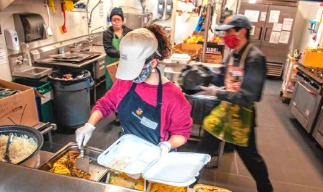 The Amherst Survival Center
connects residents of Hampshire & Franklin Counties to food, clothing, healthcare, wellness, and community, primarily through volunteer efforts. Since mid-March, the Survival Center has focused their resources on food and nutrition programs, ensuring they're able to provide hot meals to go, daily access to fresh produce and bread, and full grocery shops from their Food Pantry in as safe a manner as possible. That's why Florence Bank was proud to support their mission to ensure local people receive essential resources to meet their basic needs. 
This summer, the Survival Center established a strategic plan to address the steady rise of food insecurity during the COVID-19 pandemic. Their plan entails doubling the food provided by their Food Panty while also expanding their grocery offerings to two weeks each month. Additionally, they will expand their staff in order to implement evening and weekend hours and integrate deliveries into their schedules with a goal of delivering food to 1,000 - 1,500 area residents per month. With the help of their active volunteers and support staff, the Survival Center spent the summer passing out produce while also: 
Cooking and serving 250 lunches to people in need per day
Delivered groceries to nearly 1,000 people in August alone
Distributed more than 200,000 meals during the summer months
 
"Our efforts have been fueled by the generous donations we've received. With support from organization's like Florence Bank, we'll be able to expand our evening and weekend hours to facilitate access for low-wage workers returning to work. By year-end, we expect to serve 6,000 residents, a 50% increased from 2019."
 

-Lev Ben-Ezra, Executive Director, Amherst Survival Center
These local organizations are just a handful of those who have answered the call to provide one of the most basic of human needs – food. They are heroes and we are grateful and supportive of what they do. We encourage you to also help if you can. And if you are in need, don't be afraid to ask one of these organizations for assistance. After all we are all just neighbors helping neighbors.


Visit
Us
Locate A Branch Near You.

Contact
Us
How can we help?

Follow
Us
Stay up to date.

Request
Appointment
Book now.